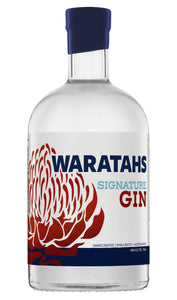 The Waratahs Signature Gin is the s
pirit of NSW Waratahs Rugby.

We worked closely with the Waratahs to create this fabulous Gin. I
nfused with the passion and tradition of Waratahs rugby, this classic Australian gin is distilled with essences of New South Wales botanicals including Waratah Flower
, Strawberry Gum, and Davidson Plum.

Perfect for sharing with friends on a warm Summer evening, this gin has a resinous juniper backbone, with a bright zing of citrus followed by a Waratah floral fruity finish. Best enjoyed with a wheel of your choice of citrus, a sprig of rosemary, and maybe even a few blueberries.
This is a small-batch and limited release. The perfect gift for the Gin or Waratah fanatic who has everything. Secure your Waratah Gin 
today!

700mL