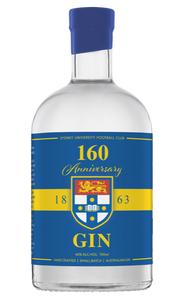 In the 160th year of the Sydney University Football Club, in collaboration with Lord Howe Island Distilling Co, we are proud to present our very own 160th SUFC Gin. This Australian classic gin celebrates the tradition and history of the club. Based on a London Dry it is truly Sydney, with Lemon Myrtle, Strawberry Gum & Rose created using the petals from the Sydney University gardens. You will be literally drinking the spirit of Sydney University Rugby.

SUFC is the oldest club outside of Britain and the eighth oldest in the world. "On the afternoon of 19th August 1865, a rugby match was played on the University grounds. After an exciting struggle, which lasted an hour and a half, during which no goals were obtained by either side, the game was stopped owing to a misunderstanding with regard to the rules." Sydney Morning Herald 22 August 1865.
The Sydney District Competition was established in 1900. Prior to 1900, SUFC won eighteen 1st Grade competitions and five 2nd Grade competitions, with a first past the post system. SUFC has won 34 1st Grade Premierships and 130 Premierships in total across all Men's, Women's Grades, and Colts teams since 1900.
The Club has had great success in recent years, consistently featuring in and winning, Grand Finals. Winning the Club Championship 25 times, including 16 times consecutively between 2004-2019. 
Enjoy this gin with friends in front of the rugby on those short winter days.
Up The Students!